YOUR COMPLETE END TO END PROJECT MANAGEMENT SOLUTION​
Comcentia FM is Comcentia custom software solution developed purposefully for Federal Construction, A&E, and facility project managers. To manage all their project from awarded to completion. With built in capability for compliance reporting.
Built on Comcentia Highly Scalable architecture. It is highly customization to each client requirements and needs.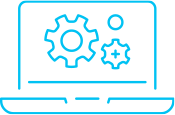 How it Works
Designed with an intuitive user interface
Maintains all pertinent records including those required for compliance
Reporting engine build on SQL Server SSRS provide full spectrum of managerial and compliance reporting out of the box
What it Offers
Contract Awards Management
Work Requests and Orders Management
Workflow Management
Customizable Tree Distribution Structure modules to maintain systems, such as Gas & Water Distributions, Fire Control Systems, etc.
User friendly reporting
Project management